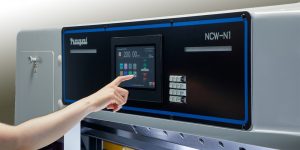 A domestic manufacturer that has been making products, called cutting machines, for over 80 YEARS by accurately examining the materials.
Release cutting machine with a tough body that kept the tradition of HIGH QUALITY and an application that prioritized EASY TO USE.
In order to enable our customers to work more SAFELY, ACCURATELY and SPEEDILY, we have created a next-generation cutting machine by precisely selected each part.